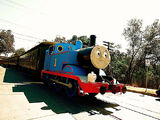 Bachmann trains is comprised of Bachmann USA, Bachmann Branchline,lilliput, and Bachmann China. Bachmann industries is famous for it's Thomas and Friends line.
History Founded in 1833 by Henry Carlisle, the company originally specialized in vanity products such as parasol handles and Spanish combs made of ivory horns. Its target market was aristocracy in the American South and Louisiana. After the Civil War it continued to make other types of hair ornaments and handles for walking canes now out of Tortoise shell and ivory. In 1899 Carlisle's firm merged with a competing firm run by Henry G. Bachmann and changed its name to Bachmann Bros. By 1902 Bachmann Bros. started to use celluloid for its products and by 1912 introduced optical frames that were made from it. It was around this time that Bachmann Bros. began experimenting in plastic. In 1927, shortly before they moved to their final Philadelphia address, they became the first American manufacturer of sunglasses. The line, "Solarex" would become very popular worldwide and would later be purchased by the US Army and United States Army Air Force for their personnel during WWII. During WWII Bachmann Bros. was awarded the coveted Army-Navy "E" Award for outstanding contribution to the war effort by an American company.
Other notable products include Birds of the World Model kits, Plasticville U.S.A., shooting glasses for Winchester Repeating Arms Company (now the U.S. Repeating Arms), and Stein Eriksen ski goggles
Community content is available under
CC-BY-SA
unless otherwise noted.